Your personality has a lot to do with the kind of pet parent you are. So don't fight mother nature! Work with your natural strengths to capitalize on the pup parenting techniques that will help you and your fur kid live your best lives.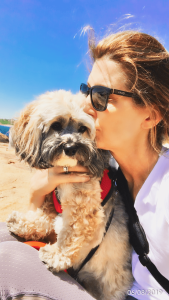 We've combined traditional human psychology with some new-age philosophies to identify four pup parenting styles that seem to fit most dog mamas (and dog dads) we know and love. Those styles are:
Free-Range Mama
The Peaceful Pup Parent
The Authoritative Pup Parent
The Attachment Expert
What kind of pet parent are you? First, take a guess at your pet parenting style, and then take our quiz.
When you're done, share your results on Facebook and Instagram! We'd love to see as many people as possible take this quiz. That information can help us understand more about how we humans view our dogs. And maybe, it will show us a bit about how they view us.
Interested in more?
Please browse our website, preview our book downward (sizing) dog, and join a community of people who've discovered the powerful canines packaged in small dog frames. (We love big dogs here too, but we're here to prove small dogs are just as much fun). We've got great recommendations for almost everything a small dog pet parent needs, no matter what your parenting style. Whether you need small dog toys, small dog gear, or something amazing for yourself or another dog mom in your life (in which case, you need our dog mom must-haves), we've got suggestions.
Leave a Reply
Your email address will not be published. Required fields are marked *