Updated and republished from original post on October 21, 2021
(Note: This post about the health benefits of pumpkin for small dogs and healthy frozen pumpkin treats for small dogs may contain affiliate links for your shopping convenience and to help support our work.  As an Amazon Associate, we earn from qualifying purchases. Our full disclosure, disclaimer, and copyright notices are found here. )
Perfect Pumpkin for Small Dogs:
The Self-Adjusting Miracle Treat
(1300 words; 6 minute read)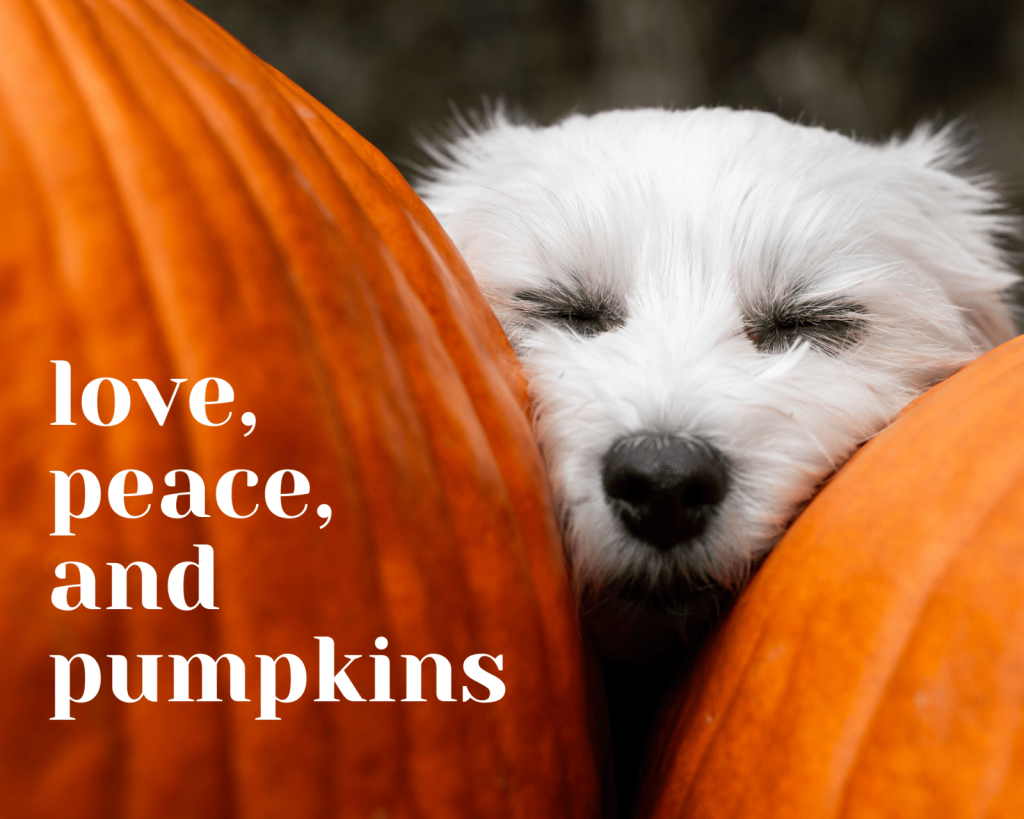 Ah, October. You're so predictable. Everywhere we turn this month, both online and in real life, we're bumping into a pumpkin or thirty: stacks of large orange orbs, spilling artfully out of wagons; frothy pumpkin spice lattes hashtagging their way through Instagram; and, weirdly, DIY pumpkin facials on Pinterest promising near-perfect skin. 
As usual, marketers selling every new season strategically include our pups in the fun. And so, our favorite dog websites and magazines likewise overflow with pumpkin toys, pumpkin bandanas…and pumpkin recipes.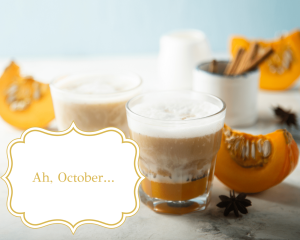 Ironically, just as October rolled up like Cinderella in her pumpkin carriage, Phoebe's vet suggested we up her fiber intake by giving her Metamucil or pumpkin. Since I like attacking a problem from all sides, and we embrace balance in all things around here, we opted for a bit of both. Several days a week we use plain organic psyllium fiber. That's what Metamucil is, essentially. We like Viva Naturals USDA Organic for both ourselves and the pups. We've also found a great fiber treat supplement Phoebe loves, and we're writing about that in a separate post. And then the rest of the week, we add canned pumpkin to her meals. We'll talk about the best ways to use both these fiber-rich options later on in this article, but first, let's look beyond fiber at all the many reasons pumpkin is good for small dogs.
What Are the Self-Adjusting Health Benefits of Pumpkin for Small Dogs?
Too many gimmicky foods compete for the "healthiest food" title, but pumpkin for small dogs is a bit of a miracle-worker. WebMd notes pumpkin protects vision and boosts immunity. Medical News Today calls pumpkin a "nutrient-dense food," and says it's one of the top food sources for antioxidant beta carotene, containing: 
vitamin A

vitamin C

vitamin E

riboflavin

potassium

manganese

thiamin

vitamin B-6

pantothenic acid

niacin

iron

phosphorus
For dogs and humans alike, all these nutrients provide various health benefits, including regulating blood pressure and blood sugar, and suppressing certain cancers.  We love these nutritional perks, but they aren't the reason our vet steered us to pumpkin. It was Phoebe's new rear-end issues, which occasionally involves scooting her rear on the floor. Sometimes at THE most embarrassing times. 
We won't gross you out with the gory details, but Phebes was having trouble with a particular gland in her nether regions. To be blunt, small dogs sometimes do have issues with their anal glands, and oftentimes those issues cause, and are worsened by, constipation. It becomes a painful, self-perpetuating cycle. Rather than throwing medication and manual intervention at the issue (which many holistic vets argue can make the situation worse), our vet recommended increasing her fiber intake. Enter the great pumpkin. 
Pumpkin for Small Dogs:
A Perfect Fiber Source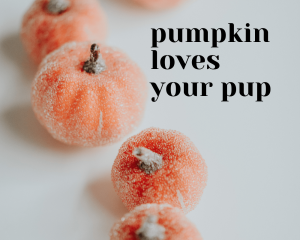 Whether your small dog's intestinal issue is constipation or diarrhea, the fiber in pumpkin acts almost like a self-adjusting beauty product, delivering just the right amount of hydration where needed. (But speaking of hydration, it's important to ensure your pup drinks plenty of fluids when you increase their fiber intake. The Merck Veterinary Manual says so. And, as always, you should talk to your vet.)
For Phoebe's constipation, the pumpkin several times a week, combined with the psyllium husk powder on several OTHER days a week, has vastly improved her comfort and eliminated her elimination issues. She's a happy camper. 
But wait, there's more. 
Pumpkin also helps if your small dog has diarrhea, as our favorite Dog Food Advisor website explains. 
In fact, given the way fiber works, the pumpkin acts to keep your pup's GI tract running as it should. For this reason, even though Scout doesn't have any GI issues, we give her the same frozen pumpkin treats we're making for Phoebe. And the added benefit now is that her bathroom routine has become even more routine. She now goes at the same time every day, which makes life easier on all of us. 
How Much Pumpkin Should I Give My Small Dog?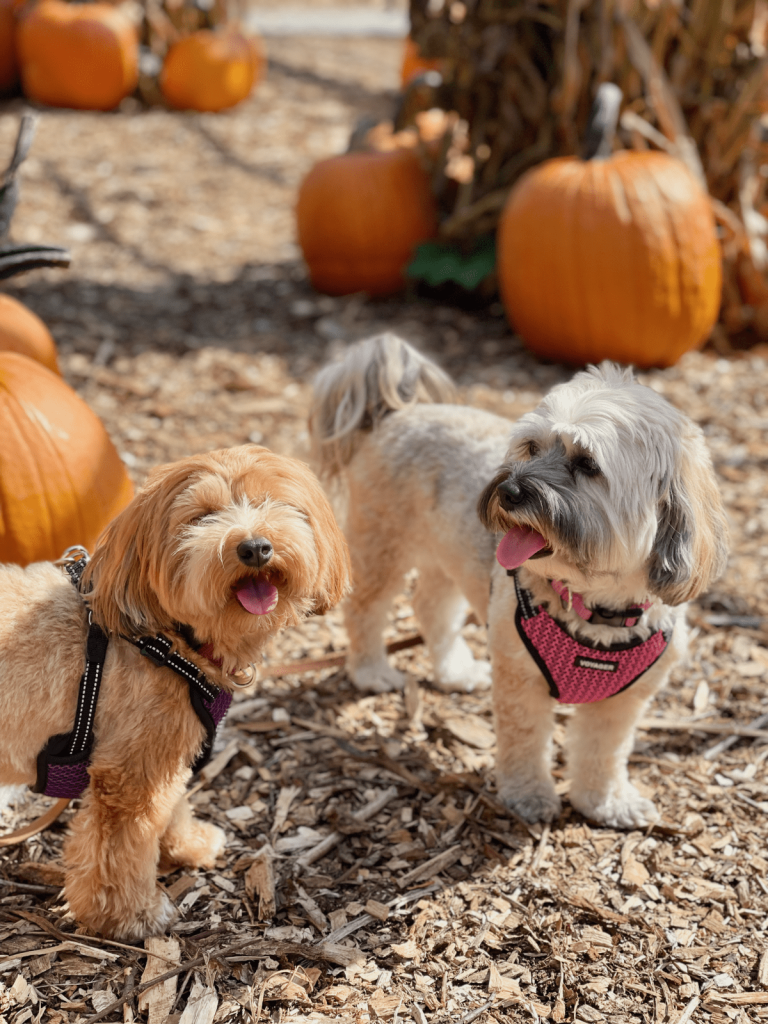 Of course we don't need to say this, but we will anyway: be careful when adding pumpkin or fiber to your small dog's diet. And whatever you do, do not rely only on what you read online. (Yes, that includes what you're reading here. Always, always chat with your vet's office). 
So, you know to be careful and ask your vet. But rather than calling the office blindly, be prepared. Know enough so you can say to your pup's medical team "I'm thinking of giving X amount of pumpkin to my pup. Is that ok?" And then your task, before making that call, is to determine how much pumpkin you should give your small dog. You'd think the answer would be pretty straightforward. 
It's not. 
Too many experts think we're still living in a "one size fits all" universe.  Those of us with small dogs often pay a price for that assumption. And much worse than our inconvenience is the price our little pups pay in upset stomachs or more serious illness when they're overdosed or overfed. (Read about Scouty's adverse Lyme vaccine reaction–a small dog risk not enough medical experts pay attention to). 
If you follow the pumpkin-dosing directions on nearly every website, including the Merck Manual, you'd feed your pup between one and four tablespoons of pumpkin a day. That's the instruction, whether your dog is five pounds or two hundred. How does that make any sense? And the amount of pumpkin is incredibly important, as too much of a good thing can throw both health and happiness off-balance.
One Teaspoon Per Ten Pounds
After scouring the web for more precise information, we did find several Canadian websites recommending 1 teaspoon of pumpkin for every ten pounds of body weight. Unfortunately, none of those sites actually cited a source for their recommendation. We don't get that. But, since the one teaspoon per ten pounds guidance couldn't hurt, given that the amount is less than pushed by most of the web, we started there. Phoebe weighs about thirteen pounds and Scouty is eleven pounds.
We made the pumpkin-honey frozen treats below, which have about two teaspoons of pumpkin per treat. In the beginning, I broke them in half and began both girls with one teaspoon of pumpkin a day. When they tolerated that well, I moved up to a whole pumpkin treat, which contains about two teaspoons of pumpkin. We've stayed at that level for over a month now. That's approximately ⅓ less pumpkin than the general dosing instructions floating all over the web. However,  it's the amount that works beautifully for both dogs. 
Even when pumpkin season is over, we'll be feeding pumpkin. 
Which Kind of Pumpkin Should I Give My Small Dog? 
The vast majority of nutritional advice from reputable websites recommends canned pumpkin over fresh, and the American Kennel Club tells us why: canned pumpkin has less liquid and thus is more nutrient and fiber-dense. 
Here's where you need to be even more careful than you always are, because canned food companies do a terrible job of differentiating between plain pumpkin and pumpkin pie filling. They all look the same, especially if you're in a hurry.
DO NOT ACCIDENTALLY BUY PUMPKIN PIE FILLING. IT'S NOT GOOD FOR YOUR DOG. 
Buy plain, organic pumpkin with no added anything. We picked up ten cans at Trader Joe's, but if you're still avoiding crowds, you can order the canned organic pumpkin at Whole Foods or Amazon.
[Aside: if you're also going to increase your pup's (or your own) fiber intake with organic psyllium fiber like Viva Naturals USDA Organic, start very slowly after consulting your vet. Here, it's doubly important that the fiber is served with ample liquid. We give Phoebe a ½ teaspoon of the fiber mixed liberally with warm water or bone broth on top of her dinner Fridays through Sundays. And then during the week, when I'm busier, we use the pumpkin treats. Scout, who wasn't having any issues at all but has definitely benefited from the pumpkin, gets a pumpkin pop every day.]
Countless pumpkin dog treat recipes exist online, and we encourage you to try them. Because we were using the pumpkin treats for a specific reason, however, I shied away from most of those recipes. I wanted to keep the pumpkin pure. Originally, we tried just putting a dollop of pumpkin on their food, but Phoebe and Scout weren't buying what I was selling. They'd lick their plates clean, leaving a small and lonely orange spot. So, we added some honey, and that helped a little. When we froze the mixture, they finally took the bait. My so-called "recipe" appears below, and if it weren't for the sharp edges on the pumpkin can, we think a toddler could make it. We hope your pups enjoy these ridiculously easy pumpkin small dog treats as much as ours do. We know their insides will thank you!
Perfect Pumpkin-Honey Small Dog Treats
Ingredients
(1) 15-ounce can of organic pumpkin
(1) tablespoon of raw, organic honey
(1) teaspoon organic Ceylon cinnamon (optional)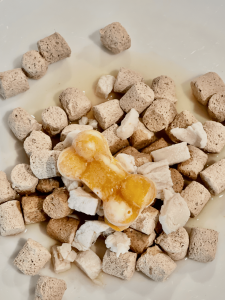 Equipment
You can use ice cube trays for the freezing, but really, it's so much more fun to use puppy-themed silicone molds. We ordered these, which we like, and we are in love with these smaller heart-shaped molds, because then we don't have to cut the larger bones in half.
Directions
These frozen concoctions are so easy, it's embarrassing. We used our Kitchen Aid Mixer the first time we made these, but now I just mix the pumpkin and honey in a bowl. Sometimes, we add just a bit of Ceylon cinnamon, as it's considered a healthy antioxidant for dogs. (We do not use regular, cassia cinnamon, which contains coumarin – something that can be toxic to both humans and animals if too much is ingested). 
Empty can of pumpkin into bowl. Add honey. Add optional Ceylon cinnamon. Whisk thoroughly. Use dropper or spoon to fill molds. Level off any excess using a knife or spatula on its side.
Prepare a flat area in your freezer to accommodate a small tray. Place the molds on the tray and cover loosely. Place the tray on the flat area in the freezer. After several hours, the treats should be solid enough for you to move them off the tray and place them tightly in a freezer bag.
A Visual Shopping List
Here you go – and if you purchase through our links, it helps keeps our blog going! We'd be grateful for the support.
We'd love to have you join our email list below; let us update you on all things small dog.
Leave a Reply
Your email address will not be published. Required fields are marked *